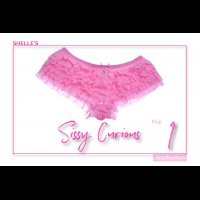 | | |
| --- | --- |
| | Audio |
OFFICIAL SYNOPSIS
Level: Mild
Length: 27 minutes
Category: Sissy Curious

This is the first in a series of files that are for those who have not allowed their feminine side to surface, and are either curious, or at least have an open mind to how it might feel.  Imagine My moist panties, how they might feel on you.  Come to ME---Be My sissy slave.....Giggles

Take a sexy warm bath and slip into something soft....and be MY sissy pet.
PERSONAL NOTE (only visible to you)
You must
Log in / Sign up