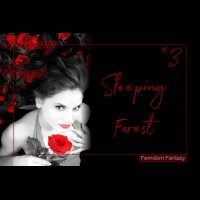 OFFICIAL SYNOPSIS
Level: Sneaky to Hard
Length: 62 minutes
Category: Brainwash-Mind Control-Seduction

That mysterious woman.....with her rose pendant dangling within the depth of her cleavage....and ruby red lips calling to you....
come to me.....come to me..
Moving ever deeper--no idea where you are going, and no sense of time or space within this mysterious tale--all you know is you have been enticed by her lips and the roses and captured by the forest---Come and learn a little more--relax and simply allow her words and her tale to continue your journey.
There is no going back now.......your fate is sealed.

Neuro-Linguistic Programming (NLP) is used throughout this series.... Also Confusion techniques.

Be sure to listen to The Sleeping Forest - Introduction and part 2 before listening to this file. This series is PROGRESSIVE.
You may re-listen to Part 1 and 2 if you like, I will allow this.
PERSONAL NOTE (only visible to you)
You must
Log in / Sign up