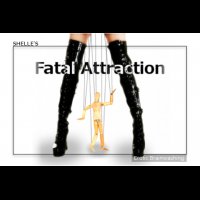 OFFICIAL SYNOPSIS
Level: POWERFUL
Length: 69 minutes
Category: Brainwash-Erotic

A BRAINWASHING MASTERPIECE--- Devastating---Mind Boggling----PROFOUND---EROTIC--- and a trance into complete blackness...a must listen.
I have progressively conditioned your mind.  This file programs your mind further for its destiny as My mindless slave.  My intoxicating voice will have you, My puppet, dangling from countless Permanent unbreakable strings, strings of My control, powerless to resist.

Did you know a simple decision can change a person's life forever?  In some cases such decisions can be fatal (lasting forever).  You won't even realize it until it is too late to turn back...Just like NOW---
Let Me demonstrate...
You can't help but continue your journey with Me, you need this, you need Me, because from the first time you let Me into your mind it was already too late...your fate was sealed, it is a Fatal Attraction.
Now come to Me and listen to this brainwashing file now.  Just say "yes Mistress/Domina i will obey".
Good boy.

A LONG slow BRAINWASHING--- MIND F--k---Possibly My most POWERFUL yet.
PERSONAL NOTE (only visible to you)
You must
Log in / Sign up