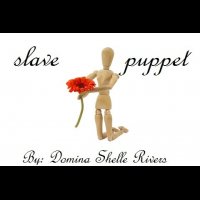 OFFICIAL SYNOPSIS
Level: Moderate
Length: 40 minutes
Category: Tease-DENIAL-Mind Control

Come spend some time with Me while I transport you into the world I have created just for you, My horny pet, your heaven on earth.  My voice will transform you into My puppet, weak and obedient for Me.  You will be, exactly, where you will need to be, yes, before your Domina your Queen, learning and living your new mantra.

I will take you to new heights of serving and pleasing your Mistress.  I can assure you, pleasing Me never felt this good.  Becoming My useful slave puppet will be your goal, as your training continues.  This is the next step in your journey to become My Perfect Slave.  When you finish the file, wipe the smile off your face~giggles~, but remember the exhilaration you felt, because it's about to increase.
PERSONAL NOTE (only visible to you)
You must
Log in / Sign up