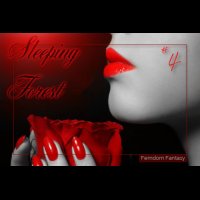 OFFICIAL SYNOPSIS
Level: Medium to Hard
Length: 33 minutes
Category: Brainwash-Mind Control-Seduction

The fourth in the series, taking you on a long and winding journey into service to Me.

By now you are feeling the power within My tale, but we have a long way to go yet My GOOD BOY.  My tale is reshaping your reality....for our benefit...yes yours and Mine.  I always leave you CONFUSED, bewildered and with a BURNING DESIRE for more.  Come take My hand as I lead you deeper into this EXTRAORDINARY hypnotic tale filled with bliss.

This series is PROGRESSIVE.  You MUST listen to The Sleeping Forest series in sequence.
PERSONAL NOTE (only visible to you)
You must
Log in / Sign up