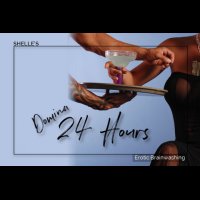 OFFICIAL SYNOPSIS
Level: Strong
Length: 62 minutes
Category: Strong Mind Control-Playful Humiliation-Enslavement

Twenty-Four hours with Domina--in PERFECT SERVICE TO ME

You have been programmed by Me for many months, and now you will see My purpose-----Laughs, I know you dream of this often, being with Me, serving Me, obeying My every command, without question without thought--
Here is your chance----giggles
This file will really open your mind to what it would be like to be with Me live, just you and Me.  Live the fantasy NOW.  Listen and OBEY!

If you enjoyed My "Domina" file, you will love this one.
PERSONAL NOTE (only visible to you)
You must
Log in / Sign up