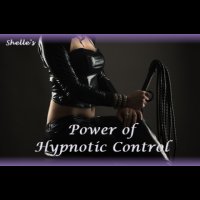 OFFICIAL SYNOPSIS
Be My brainwashed HYPNOTIZED guinea pig...I will experiment again inside your brain...

Session: 51 minutes
Category: Brainwashing-Mind Control

My sweet, soon your actions will demonstrate the effectiveness of My perfect control as you are consumed by your extreme desires and sensations for Me, your sweet, sensual and sexy seductress. My words will aid your concentration during meditation....This can happen anywhere, at any time, and you will know that I own you, that you live to serve Me and only ME, that there is no way back for you, My horny puppy. Giggles... your future is with Me, obsessed and addicted, an unbreakable cycle leaving you overwhelmed with an unfaltering sense of loyalty and devotion to your Domina, only yearning for more and more...

Oh My, how will I subjugate you this time, My dear pet...Through My uniquely flirtatious style of erotic hypnosis, of course, combined with powerful deepening techniques, and meditation that will induce an extremely pleasurable and receptive state, ideal for Me to implant My Power of Control. I'm not going to give you any further details - that would spoil all the fun (giggles) - but I can promise you this, by the time you wake up you will have felt the FULL power of My exquisite control and will love the EXPLOSIVE desire to give all of yourself to Me!

Be warned, My sweet, I am playing for keeps - I will always take what I want. This means breaking you down and building you back up so that I am central to everything that you are, so fundamental that you crave Me constantly. I will permanently bind your emotional connection to Me, culminating in your absolute obedience and servitude to your only source of true pleasure, Me, your deserving, delectable and decadent Domina!

Awwww, isn't that a wonderful future I've planned for you, My goodboy - enslaved, aroused and serving Me always.

Let this session take you, accept your cravings to be the helpless enslaved pet you have always dreamed to be. Take your place naked, at My feet, and experience the ecstasy of My POWER OF HYPNOTIC CONTROL.

Oh, My sweet, you have a SPIRAL LOOP as MY gift with this session.
PERSONAL NOTE (only visible to you)
You must
Log in / Sign up