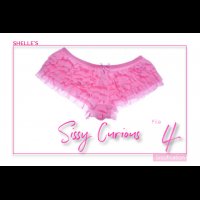 OFFICIAL SYNOPSIS
Level: Moderate
Length: 16 minutes
Category: Sissy Curious

This is the last in the series of sissy files for those of a curious nature who had not allowed their feminine side to surface, and whose minds have been opened a little by listening to this series... Let's just say that parts 1, 2 and 3 were all leading to this VERY sexy and seductive EXPLOSIVE ending...Get comfy (you want to dress sexy for this session---maybe in PINK---maybe in SILK) and prepare to once again enter My sexy world of sissy.  My sissy LOVES silk!

Take a hot bath, get into that sexy pair of panties and pretty pink lipstick...and meet ME again in My world of sissy...
PERSONAL NOTE (only visible to you)
You must
Log in / Sign up