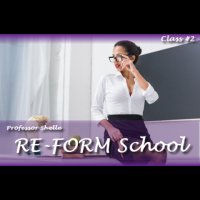 OFFICIAL SYNOPSIS
The second class of Shelle's ReForm School for Obedient Boys...

Session: 46 minutes
Category: Shelle's School For men

Welcome again to Shelle's ReForm School for Boys. As you should know by now I am Professor Shelle Rivers, Head of the Department for Unethical Behavior Modification, and this is the second class of fifteen (15) this semester to indoctrinate and brainwash aroused and horny submissive boys like yourself into comprehending the immense benefits of subservience, servitude and submission to powerful dominant Women like myself.

At this school students are trained methodically and lovingly by their Owners. Our results are unmatched and soon you too will be executing tasks without thought or question. The training process is very similar to that used for puppies because a submissive man exhibits similar behavioral characteristics and our methods show he is easily ruled through a combination of seducing his heart, mind and c*ck. With some additional incentives (e.g. Chastity, fetish implantation) a submissive man, like you, will happily dedicate and devote himself to his Owner, pampering and pleasing Her just to be acknowledged and appreciated. (giggles)

In this second class W/we will focus on what it means to desperately crave the control of dominant Women and, in particular, to Me your Domina - a powerful, mesmerizing, alluringly sensual Woman. This level of control is intoxicating to all submissives and when nurtured correctly results in the required addictive and obsessive behavior essential to produce a successful long-lasting D/s relationship.

So, be My good boy and prepare yourself to better understand why you are a slave and what it means to lead a selfless life, to be truly owned and bound to the SUPERIOR ONE.
PERSONAL NOTE (only visible to you)
You must
Log in / Sign up