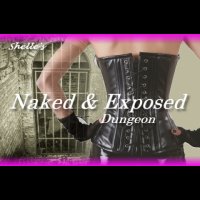 OFFICIAL SYNOPSIS
It's time for that long dark walk, down the corridors of your mind into My Dungeon of pain and pleasure...

Level: POWERFUL
Length: 42 minutes
Category: Enslavement-Brainwash-Mind Control

My Dungeon is the place to find redemption, My pet. A place in which I will torment your helpless mind and body. you will crawl naked, behind My hypnotic ass as you spiral down deep into a place you will desire and fear all at once. Once W/we arrive in My redemption room, hidden deep within My dungeon inside your useless mind.

When you feel the sharp stings from the crack of My riding crop across your body, you feel an erotic thrill because that is what I want. you crave the sharp crack and the wonderful rush of pleasure that follows. your arousal exists because of Me. My words define your world. I am in control of your sensations, so erotic and arousing. Seek your destiny, slave, trained to be an even more submissive and obedient slave to your Mistress.

Realize that you, My pet, crave to be disciplined and trained by Me. That you yearn to feel My crop on your naked enslaved flesh. To experience the reality of true enslavement, and accept responsibility to your Domina. Listen, My mindless pet, to this powerful MP3 as your Domina places you in bondage.
PERSONAL NOTE (only visible to you)
You must
Log in / Sign up