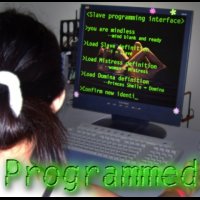 OFFICIAL SYNOPSIS
Level: Very Strong
Length: 52 minutes
Category: Brainwash-Mind Control-Erotic

What is faster and more efficient than active learning?  Being directly programmed, of course!  A perfectly PROGRAMMED slave, yes that's what I want.  So close you eyes and take a trip with Me to the most EXOTIC destination imaginable.
Body and mind relaxed first, HYPNOTIZED DEEPLY for best results!  Yes, and then it's time to empty that brain of all those useless thoughts, DELETE---DELETE-- create a nice EMPTY workspace for your Domina.  NEW programming NOW goes into effect!  Your brain absorbing My commands, as they are deeply IMPLANTED within your subconscious.  Feel the EROTIC PLEASURE of My programming taking over.  My words controlling your mind and of course your manhood ***GIGGLES***.  So SEXY!!!  One click and your upload is COMPLETE.

I have included 2 versions---the first has Ocean waves and very powerful panning effects...the 2nd has My voice ONLY!

This file is a sweet sexy experience, and also very nice for bedtime or a cozy sleep after your programming takes effect.
PERSONAL NOTE (only visible to you)
You must
Log in / Sign up