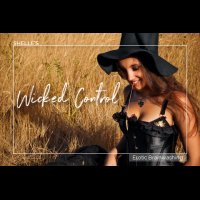 OFFICIAL SYNOPSIS
Level: Strong
Length: 39 minutes
Category: Mind Control

I will show you MY ULTIMATE POWER of CONTROL over you.  I will cast MY wicked little SPELL...you will search for a way out....Soon finding that I am your ONLY answer.  YES, you will be a little FRUSTRATED with your SEXY WICKED Princess. ***GIGGLES***  But you can NOT resist ME, can you!!!  ***Wicked Laugh***

Abra Abracadabra---GIGGLES  I know, you just LOVE My wicked side ...don't you...you will soon come to ME, I am the ONLY one who can remove MY spell....
PERSONAL NOTE (only visible to you)
You must
Log in / Sign up