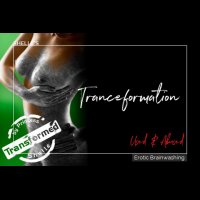 OFFICIAL SYNOPSIS
Level: Medium to Hard
Length: 36 minutes
Category: Mind Control-EROTIC

CAN you say NAUGHTY NAUGHTY NAUGHTY WICKED Domina.

A special kind of TRANCE-FORMATION---where your lack of control is My weapon to stimulate you in MANY ways.  I will USE you and ABUSE you.  Rated XXX.

Just imagine what being USED and ABUSED means to you----This is one TRANCE-formation that you will not soon forget.

Maybe I will make you into a simple OBJECT, puppet like, a sex toy, so many twists and turns....so much SEXUAL PLEASURE in being Trance-formed.  I will touch on many of your most EROTIC fantasies and fetishes.

A special slave experience---be what I want you to be---PLEASE ME!  Not even chastity will stop this EXPLOSION---Just as I intended.

You will need to be able to stand (but no need to move) during this file.  For the best effect, you should listen to the first file Tranceformation--Statue before listening to this file.  It will be even more effective if you have listened to the first file multiple times.
PERSONAL NOTE (only visible to you)
You must
Log in / Sign up