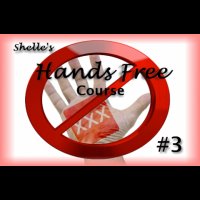 OFFICIAL SYNOPSIS
Shelle's HFO Training ... Session 3

Length: 30 minutes
Category: HANDS FREE-Mind Control-Brainwash

By now you must be so turned on and so MIND Fu*ked... feel your c*ck swelling as you read through My words.

Relax and prepare for another journey into pleasure and sensuous submission to My voice. Every step in My TRAINING has taken you closer to c*mming with just My words. you have given up so much control to Me already. Now allow Me to milk your mind dry as I lure you deeper under My control. Obsessed with orgasming for Me. The way I turn your fantasies into reality leaves you horny and weak. I play with your arousal until your sex is begging for an EXPLOSIVE climax. Allow Me to stroke your lust until it overtakes and consumes your mind! Succumb to My wet, sticky words, pet. Erupt into helplessness for ME!

Train with Me...Let Me guide you to the ULTIMATE PLEASURE...that only a HYPNOTIST can give you.

Coming to a CLIMAX, SOON!
PERSONAL NOTE (only visible to you)
You must
Log in / Sign up