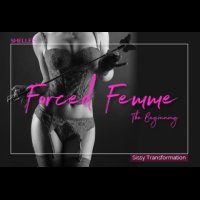 | | |
| --- | --- |
| | Audio |
OFFICIAL SYNOPSIS
Explore My power over you while also bringing out your inner feminine side...

Category: Sissy--Forced Femme
Level: Powerful
Length: 34 minutes

IMPORTANT: Read the description prior to purchasing.

I wonder if you sometimes forget just how much power your Domina holds over you, My pet. This session will explore this concept while also bringing out your inner feminine side. Listen as My sweet southern voice results in your total surrender, all the while I start coaxing your feminine nature from deep within your psyche. Ultimately bringing it to the surface for possibly the first time. Cum and explore this side of yourself. Show your tender, sweet side to your Domina...W/we have no secrets.

Does this scare you, My lil pet....of course not, My strong masculine male...giggles. you would never find yourself wearing panties, stockings or nail polish, right. Smile. No worries, My pet, even if by the end of the MP3 you found yourself putting on sexy lingerie, you could always blame your Domina for commanding you. As for My sweet sissy pets, you will love this powerful session as I take control of you and further fan your feminine side and nature. This session will allow U/us to play and have some fun together.

Prior to listening why not do a little shopping at your local lingerie store and pick up a few things and/or pick up a few cosmetics. How much or how little is completely your choice. Maybe start something small such as a pair of lace panties. Completely your choice, My pet.

This might not be for everyone, although, if you are open minded and desire to experience something new while exploring My power over your OPEN mind, you will love this MP3.
PERSONAL NOTE (only visible to you)
You must
Log in / Sign up