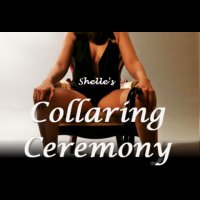 OFFICIAL SYNOPSIS
Level: Strong
Length: 32 minutes
Category: Enslavement-Brainwash-Mind Control

I will hypnotize you and guide you into My chambers, where you will kneel before My throne and at My sexy feet...you will be most passive and OBEDIENT.  Looking into My eyes as I guide your hand to your c**k, your fingers will lock around your c**k as My collar locks around your neck.  With each and every stroke the control tightens....My control becomes stronger.

Experience the SEXUAL sensations and effects of wearing My collar.  Accepting a greater need for submission and a need to obey and to serve a POWERFUL and SEXY Domina.  Can you resist the arousing climax?

Listen with your headphones on...if you have a collar you may place it near you...and await instructions...or this may be imaginary, if you choose.

When you are ready to come to Me, My pet, for the real experience of being My Owned Collared slave, you know how to find your Mistress.

OFFICIALLY collared slaves---this file is NOT for you.
PERSONAL NOTE (only visible to you)
You must
Log in / Sign up