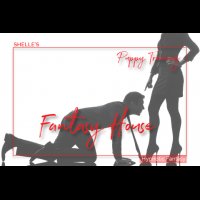 OFFICIAL SYNOPSIS
Category: Fantasy House
Level: Moderate
Length: 42 minutes

Your first taste of a new level of training as my little puppy pet—almost human—but not exactly....you will be TRAINED to be My best, most OBEDIENT puppy.  File is very interactive---For best effect please be able to move around a little and place a bowl of water on the floor—***GIGGLES***

The induction is VERY powerful---you will fall deep.  Let your inhibitions go and enjoy this most EROTIC Fantasy House.  If you have ever wondered what it would be like to be lead around on My puppy leash, you're about to find out.  This file is more and more effective the more you listen...also enjoy the amazing changes to the induction.

This is a file of COMPLETE submission...NO BESTIALITY...just so you know.
PERSONAL NOTE (only visible to you)
You must
Log in / Sign up