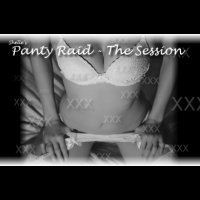 OFFICIAL SYNOPSIS
Be My XXX PANTY SLAVE and let Me work wonders with your mind and your c*ck ...

Length: 30 minutes

Be ADVISED---if you are offended by "XXX HYPNOTICA" do not listen. This is UP and CLOSE!

My horny love puppy, this session is a very important step in your journey of submission. W/we already know how irresistible My voice is and how much I enjoy nurturing our special D/s bond, so to keep Me FIRMLY in your mind, at ALL times, I will implant another powerful fetish in your submissive psyche so that craving My control becomes the core of your existence. (Giggles)

Imagine a scene where you are kneeling at My feet, feeling submissive and aroused, with an insatiable yearning to worship and please your Domina. Now fantasize what it would be like to kiss and caress My stunning sun-kissed body as I whisper in you ear, to start with My sexy painted toes and My beautiful arched feet. Lost in devoted adoration you are soon worshiping My toned legs moving steadily upwards, subconsciously aware you are moving towards My temple and your ultimate fantasy. Delirious with pleasure My silky soft panties are all that separate your lips from mine, warm, wet and waiting for your embrace... Hmmmmm

I won't reveal more details, My puppy, because there's no fun in that, but, let's just say you will find yourself helpless and vulnerable ...no resistance as I do what I want inside your brain. In fact, with repeated listens, your need to feel, taste, smell and see My scent infused panties, when listening to My voice will become an obsession, hopelessly addicted to recapturing this intimate portrayal of utter subservience and submission to your Domina.

So, My puppy, immerse yourself in this latest erotic offering and allow Me to both tantalize and tease ALL of your senses binding you ever more closely to Me and My total dominion of you!
PERSONAL NOTE (only visible to you)
You must
Log in / Sign up